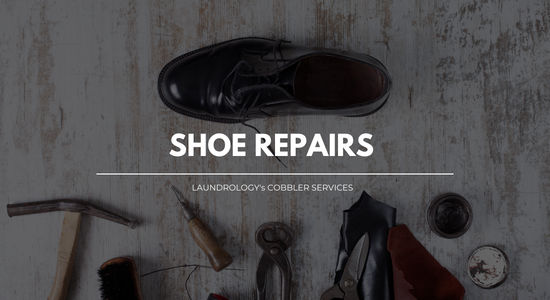 SHOE REPAIRS
In today's fast-paced and disposable society, it's easy to overlook the value of well-crafted and durable shoes. However, when our favourite pair of shoes starts showing signs of wear and tear, it can be disheartening. Luckily, there is a solution for Bangalore: shoe repair services offered as part of  Laundrology's Cobbler and Repair Services.
Laundrology's Cobbler Services understands the importance of extending the life of your beloved shoes. Our team of skilled shoe repair experts is dedicated to providing top-notch shoe repair services. We offer a wide range of shoe repair services, including insole replacement, heel tip replacement, patchwork, recolouring, and much more. At Laundrology's Cobbler Services, we believe in the philosophy of "repair, don't replace."
In today's throwaway culture, it has become common for people to simply discard their old shoes and purchase new ones. However, this not only contributes to environmental waste but also disregards the craftsmanship and sentimental value that our shoes hold. Repairing and refurbishing your shoes is also made more convenient when you opt for our doorstep pickup and delivery service.
By choosing Laundrology's Cobbler Services, you are not only opting for a sustainable and eco-friendly choice but also ensuring that your shoes receive the attention and care they deserve, from the comfort of your home.
Service Offerings include: 
HEEL TIP CHANGE

SHOE/SANDAL SOLE CHANGE/REPAIRS

LEATHER SHOES SOLE CHANGE/REPAIRS

SHOE/SANDALS PASTING WORK

BOOTS RUNNER/ZIP CHANGE

SHOE/SANDALS INSOLE CHANGE

SHOE RECOLOURING

SHOELACE REPLACEMENT

SHOE EYELET REPLACEMENT
For more information and pricing related to the repair services, please refer to the Pricing Page.